The gastronomic and enological traditions of the Romagna region are extremely rich, and those who live in Ravenna can confirm that the city is an excellent representative of them! Typical products from Romagna are appreciated throughout all of Italy: piadina, for example, is the number 1 ambassador of the good cuisine of Romagna!
There are many festivals in honor of the regional cuisine. One of these, for example, is GiovinBacco – Sangiovese in festa, which is held every year in October.
It is an event that celebrates the best local products and slow food. Wines from the cantinas of Romagna are exhibited, along with fruits and vegetables, piadinas, cheeses and much more!
Here is a small (sentimental) guide to some of Ravenna's typical products!
Cappelletti
When you think of the gold of Ravenna, perhaps the first thing that comes to mind are the mosaics, but true connoisseurs also spare a thought for a nice plate of cappelletti in steaming broth. The typical egg pasta – unlike the Emilian cappelletti of the same name and the Bolognese tortellini – is traditionally filled with cheeses and served in capon broth, or with ragù. At Christmas they are indispensable, and are able to warm the heart  and satisfy every palate on any occasion.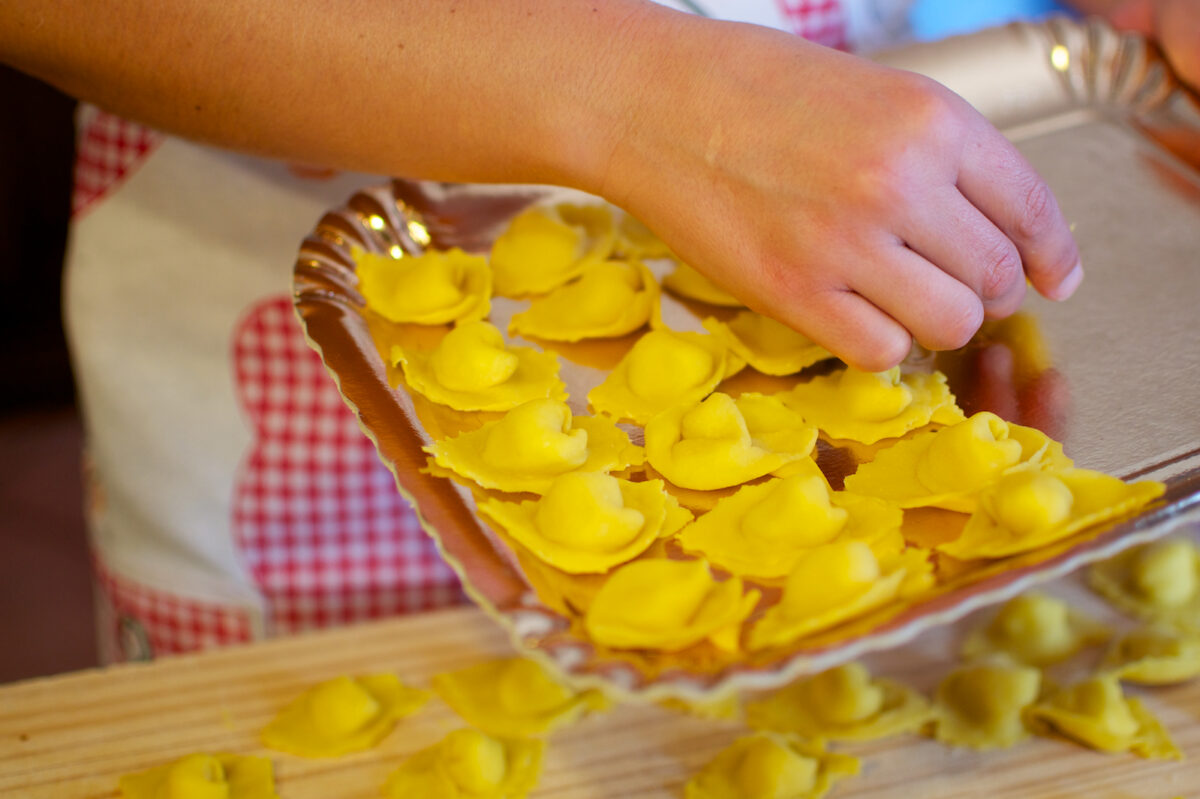 Passatelli
Obviously this list can't include all of our traditional dishes, but we couldn't continue without mentioning passatelli. A mixture of eggs, cheese, grated stale bread and nutmeg, is "crushed" with a special tool called "ferro da passatelli" (lit. passatelli iron) or, when unavailable, with a potato masher. They are served in broth and are a typical dish for holidays.
Castrato di Romagna
Castrato is a typical meat dish in Ravenna: this term indicates a male sheep and the meat that is obtained from it. These animals are grazed and fed with fresh herbs and grains . Usually this meat is marinated with salt, garlic and rosemary and cooked on a grill. It can be served simply with olive oil and lemon, or in a stew with shallots.
The mutton chops are very appetizing too, and are breaded with flour, beaten eggs, breadcrumbs, grated Parmesan and then fried in a generous amount of olive oil or alternatively are grilled.
Mussels of Marina di Ravenna
Every self-respecting seaside town has a culinary tradition linked to local seafood, but few can boast of mussels as excellent as those from Marina di Ravenna. The mussels here are considered wild and develop in the open sea. To collect them, fishermen have to dive 10/15 metres, sometimes even up to 25 metres!
There is also a good number of clams here, and they can be sampled with the same preparations as the mussels: either in marinara sauce or stewed. For seafood lovers, oily fish is also excellent, and is always freshly caught.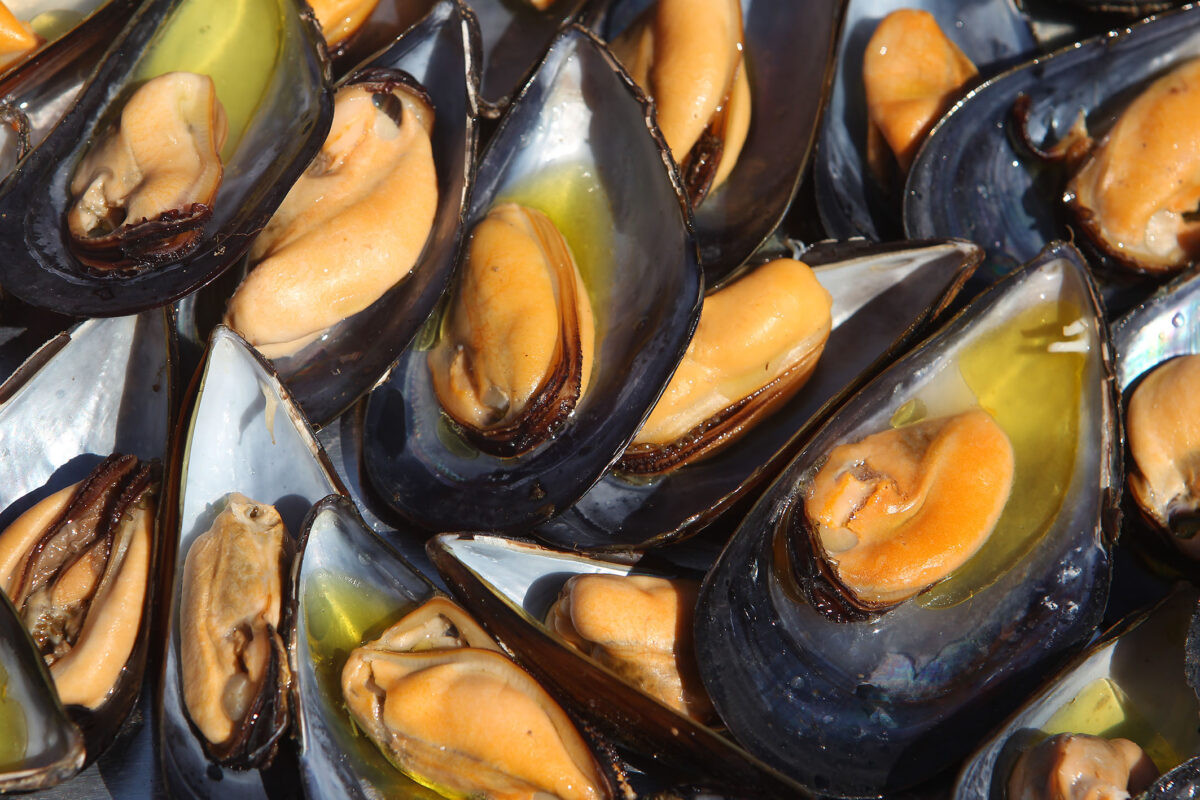 Piadina romagnola
Ravenna's version of the piadina is famous for being thicker and fluffier than those prepared in other areas of the Romagna, where it is served thinner and crispier. It has ancient origins, although further details are a bit murky, and its recipe is very simple: it is eaten both filled and as a side dish to accompany various courses of a meal.
Giovanni Pascoli went as far to define it as "the bread, indeed the national food of the Romagnoli". The most famous of these is the one with squacquerone and rocket.
The most "artistic" piadina? That would be the mosaic one by Silvia Naddeo, entitled Romagna Pride and exhibited at the MAR – Museo d'Arte della Città di Ravenna.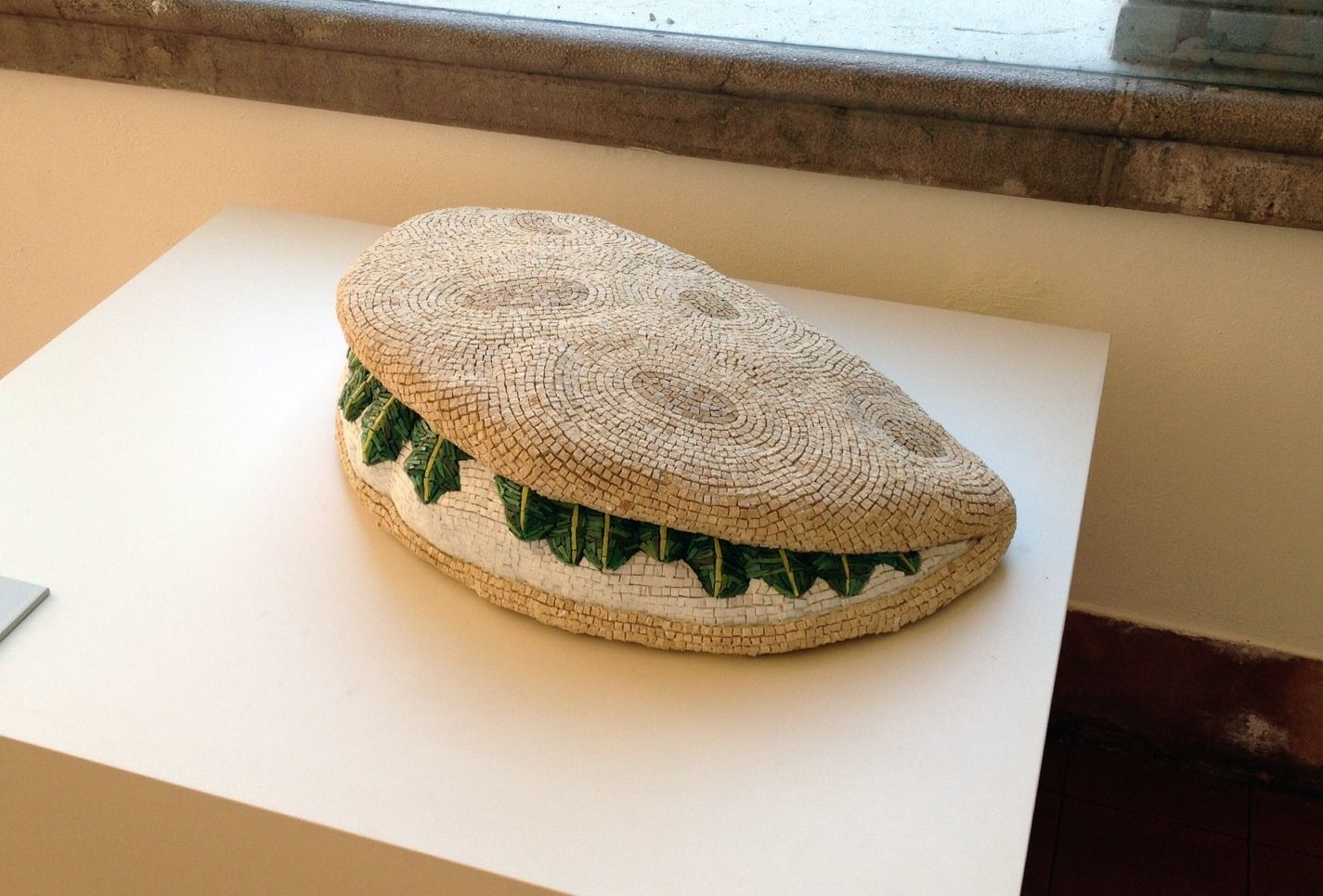 Scquacquerone di Romagna
Squacquerone is the typical cheese of the Ravenna area and is traditionally eaten along with a piadina. It has rural origins and is a variant of the historic Raviggiolo cheese, but is different in terms of salting and maturation. Soft, tender and rindless, it is made from whole cow's milk and is meant to be eaten fresh. The European Commission also confirmed it as a typical product of Romagna: In 2012 Squacquerone received the PDO certification (Protected Designation of Origin).
Pine nuts
Every spring, in Fosso Ghiaia, there is a festival to celebrate them: the pine nuts from the pine forests in the area surrounding Ravenna have long been one of the symbols of the city, as well as some of the best in Italy. In the 18th century, a small economy had been created around its harvest, and the small seeds were exalted for their medicinal benefits.
The pine nut harvest began in October, and in spring the pine cones spread over the pine forests of San Vitale and Classe, where they were then beaten with clubs.
Thanks to the heat of the sun, the pine cones opened, releasing the pine nuts and diffusing their characteristic aromatic and resinous scent into the air.
Shallots
Since 1997 the Romagna shallot has obtained the PGI certification (Protected Geographical Indication), and stands apart from all the other varieties cultivated in Italy and abroad.
It is an onion of the "Allium Ascalonicum" species. It has a particular flask shape, leathery skin and a very lively reddish brown color. It is cultivated without the use of chemical treatments and fertilizers. The main area of production of ​​this product is Riolo Terme.
It is used as a base in the preparation of many dishes from our culinary tradition: sauces, gravies, soups, sautées, fillings, stuffings…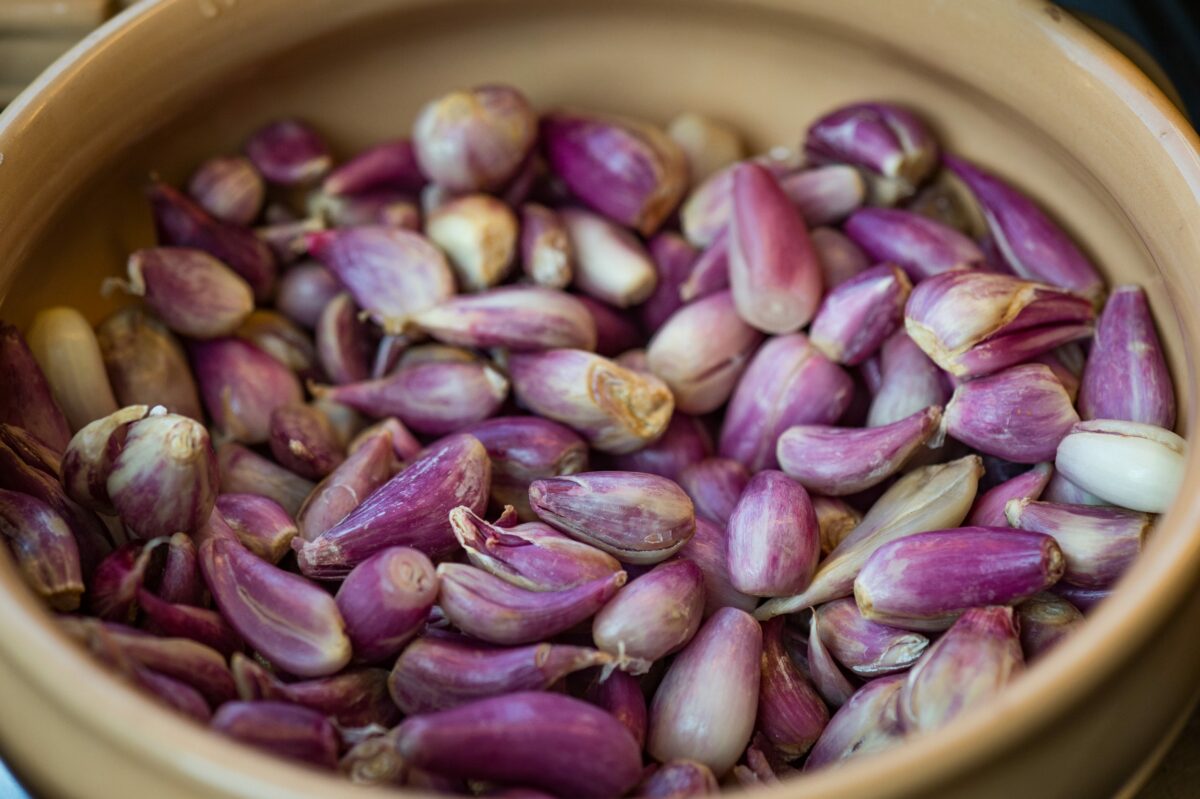 Romagna peaches and nectarines
Romagna peaches and nectarines have PGI status too! Created from the crossing of different species with yellow and white pulps, they are among the first varieties of peaches to have obtained this recognition in Europe. The province of Ravenna has always been at the forefront in matters related to floriculture, even at the industrial level. The first orchards – mainly peach orchards, but also those for other fruits – began to be cultivated around Massa Lombarda near the end of the 19th century.
The Nectarine is also known as "pesca noce" (nut peach) and is distinguished by its very smooth and compact skin.
These peaches are special because they are rich in vitamin C and potassium, as well as having a good amount of ß carotene and pro-vitamin A. They are the best snack during summer!
Pine wood asparagus
The asparagus of Ravenna comes from its pine forests, and up until the middle part of the previous century it was harvested by the so-called "pinaroli". Today it is also grown in greenhouses and fields, thanks to a project which strives for the recovery and valorisation of local products.
There are two main types of asparagus: the "San Vitale" (Asparagus tenuifolius), which is finer and more delicate, and the "Bardello" (Asparagus marittimus), which is rustic and has a pungent taste. They are consumed either boiled and seasoned with oil and lemon, or used for wonderful first courses, frittatas and savory pies.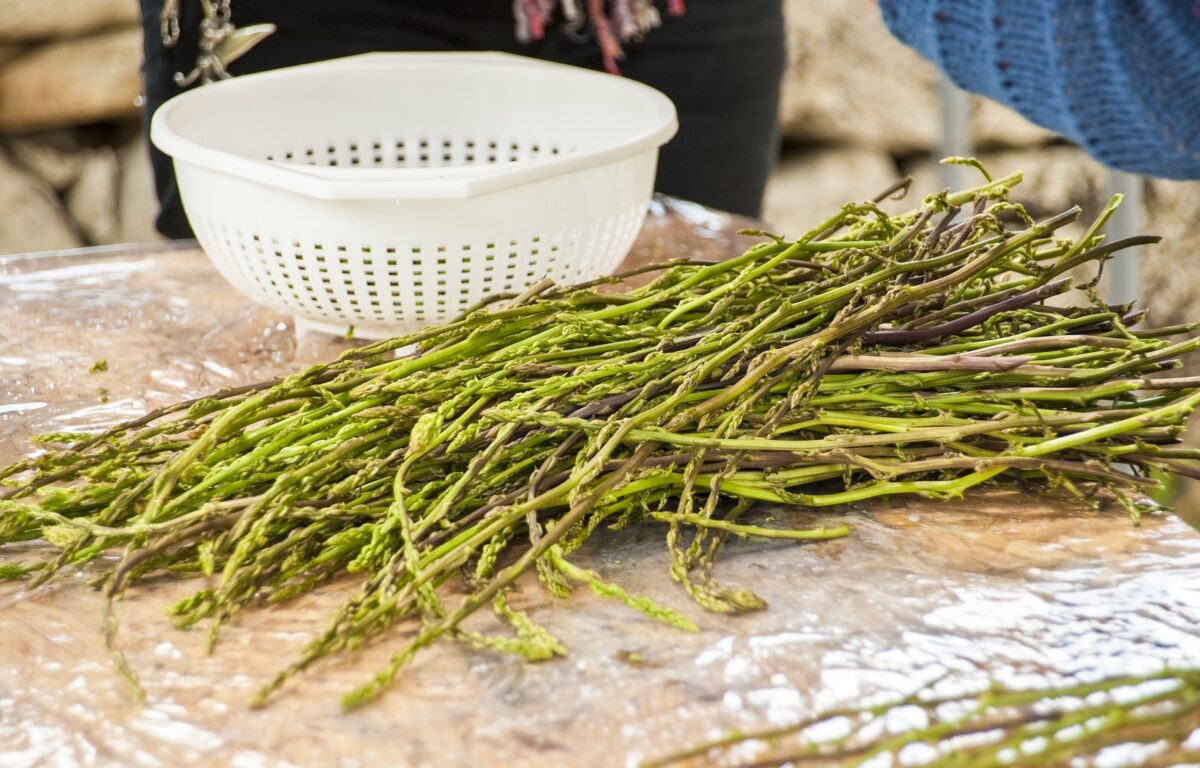 Cervia's salt
A little over 20 kilometers from Ravenna is one of the oldest manufactures in all of Italy: the salt pans of Cervia. They have been active for over 2,000 years and their salt is used throughout all of Italy. In ancient times it was very precious because it allowed for the preservation of food, to such an extent that it was also used as a currency: at the time of Augustus it was the "salary" for the payment of soldiers.