On Foot
Walking down the streets is maybe the best way to visit Ravenna. The city centre features a wide pedestrian area, and it's easy to lose yourself strolling around all those monuments. Once ancient waterways, the alleys are today charming and welcoming urban places.
On foot, slowly, you will discover a universe of peace and tranquillity. Just pay attention to the bikers who speed by, or —why not — try and visit the city as a local: on a bike.
Ravenna: where to keep fit
By Bike
Visiting Ravenna on a bike means discovering both the city and its surrounding, combining ecology and pleasure. Thanks to the network of cycle lanes departing from the city centre, you can reach the nine seaside resorts of the Ravenna coastline.
Along the itinerary you will see suggestive places, breathtaking views, landscapes of unblemished nature and historic relics.
TREKKING
Cover long distances on foot, as in the past, and rediscover the pleasure of walking, of savouring slowness and enjoying the beauty of nature.
Ravenna is a destination and stop of many trails and pilgrimage routes that cross the Emilia-Romagna region, first of all the one dedicated to Dante Alighieri.
Local Public Transport
Ravenna city centre and all the surrounding towns, especially the seaside resorts, are connected through a widespread network of buses managed by START ROMAGNA (www.startromagna.it).
WHATSAPP AND TELEGRAM CUSTOMER SERVICE
Real-time information on the routes through WhatsApp +39 331 6566555 (available from Monday to Saturday) or Telegram.
ONLINE TICKETS
Roger, Muver, DropTicket® and myCicero® are the apps on which you can buy your travel ticket, paying with phone credit or credit card.
FRECCIA BLU BUS (RAVENNA – MARINA DI RAVENNA/PUNTA MARINA/LIDO ADRIANO)
FRECCIA BLU provides routes to easily reach the sea and come back to the city.
ROUTE 60 (Ravenna railway station – Marina di Ravenna): paid daytime bus
ROUTE 75 (Ravenna railway station – Marina di Ravenna) paid night bus
ROUTE 75 (Ravenna railway station – Punta Marina and Lido Adriano): paid night bus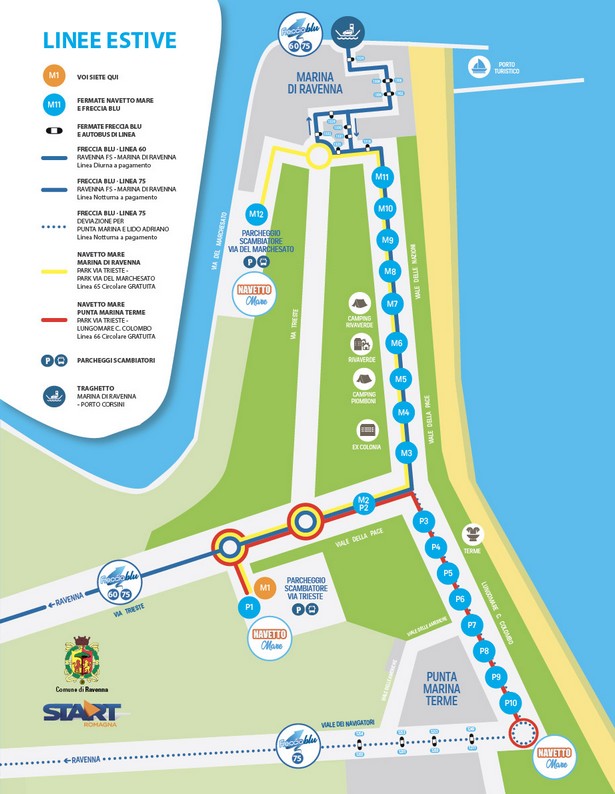 NAVETTO MARE (MARINA DI RAVENNA AND PUNTA MARINA)
From May 7th to August 28th 2022 you can also use the NAVETTO MARE service: free parking areas and buses on weekends and public holidays.
WOULD YOU LIKE TO REACH MARINA DI RAVENNA?
Starting/return point: parking area in Via Trieste or Via del Marchesato, direction Marina di Ravenna.
WOULD YOU LIKE TO REACH PUNTA MARINA TERME?
Starting/return point: parking area in Via Trieste.
More information on: www.startromagna.it
By car
Ravenna features many parking areas, free or on payment.
Most of the city centre is a Limited Traffic Zone (ZTL in Italian). The circulation of motor vehicles is therefore subject to restrictions, according to specific time frames, and access is monitored by an electronic control system.
If you travel by car, ask your host for information or visit our website to know more about the Limited Traffic Zones in the city.
Limited Traffic Zone (ZTL)