A 35-km itinerary along the Lamone river, a water trail that will make you discover a uniquely beautiful territory.
The flourishing plain, reclaimed valleys, brackish lagoons, the century-old Pine forest of San Vitale, the flooded forest of Punte Alberete – populated by important species of aquatic birds – up until the suggestive coastal dune by the mouth of the river.
The walking and cycling path along the Lamone river is an itinerary immersed in a unique landscape characterised by history, culture and nature.
You will find water, both the fresh and precious one of the river and the salt water of the Adriatic Sea; and then the land, with its flourishing plain, cultivated fields, reclaimed valleys, brackish lagoons, rural buildings, pine forests and fishing cabins.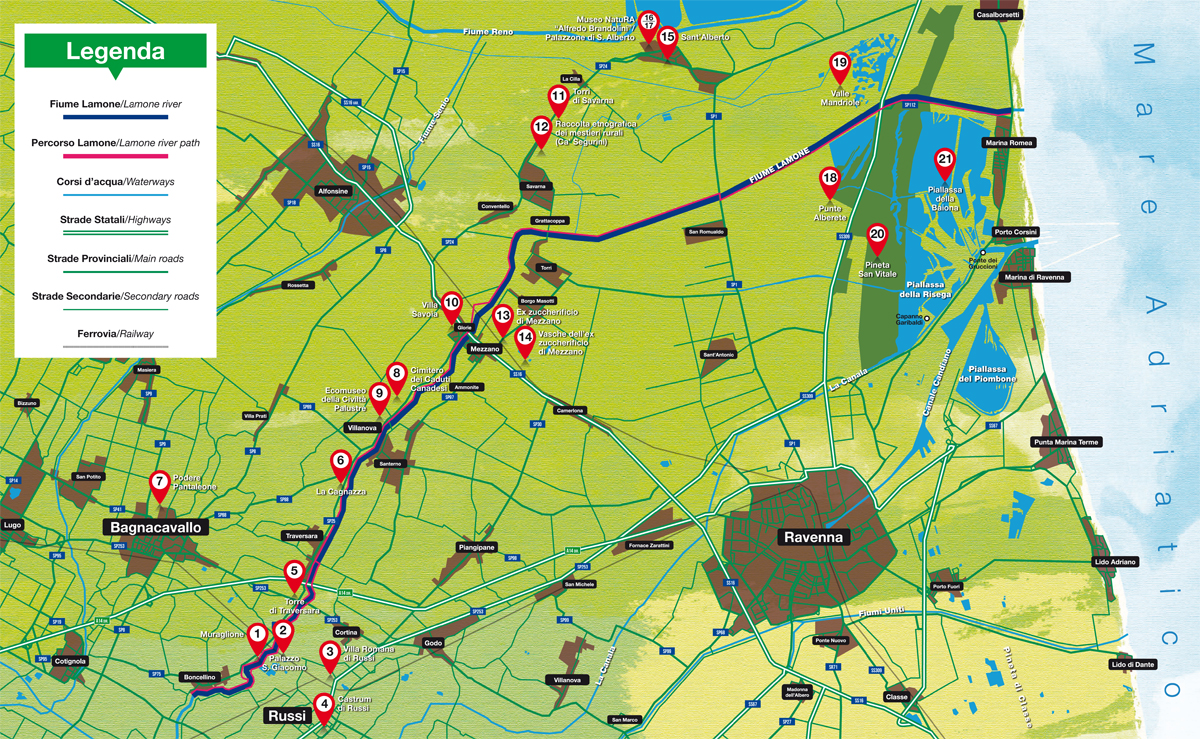 An open-air museum with many interesting historical and cultural sites, such as Palazzo San Giacomo in Russi and the Eco-museum of Marshland Civilization in Villanova di Bagnacavallo.
This itinerary is a tribute to the territory and an invitation to discover the richness that lies in it. Don't miss an exciting journey between past and present, through a unique environment made of history, culture and nature.
Are you ready to start your journey? Here is a list of the many points of interest located along the route.
Bagnacavallo |
IL MURAGLIONE
Little waterfalls originated from the remains of a river barrage that powered an ancient mill of the 19th-century
Russi |
PALAZZO SAN GIACOMO
Imposing and beautiful holiday manor, built by the Rasponi family at the end of the 17th century
Russi |
ROMAN VILLA
One of Northern Italy's most important and best-preserved rchaeological complexes (I-II century AD), with mosaic floors of outstanding beauty
Russi | 
CASTRUM RUSSI
Built to defend the territory in 1371, the castle houses today the Civic Museum and the city's art collection
Bagnacavallo | 
TORRE DI TRAVERSARA
Elegant building in the middle of the countryside which was the holiday residence of the Hercolani Counts of Bagnacavallo
Bagnacavallo |
LA CAGNAZZA
Building, whose popular name is due to a dog-shaped statue guarding the complex
Bagnacavallo | 
ECOLOGICAL BALANCE AREA PODERE PANTALEONE
Natural protected area of the Rete Natura 2000 network, spontaneously originated from an old abandoned farmland
Bagnacavallo |
CANADIAN WAR CEMETERY
Built in 1944 by the Canadian Government, the cemetery houses Canadian soldiers who died in World War II
Bagnacavallo |
ECO-MUSEUM OF MARSHLAND CIVILIZATION
A fascinating museum witnessing the ancient civilization and the original use of marsh herbs
Bagnacavallo
|
VILLA SAVOIA
Manor house, built between the 17th and 18th century, with an elegant oratory adorned with Baroque decorations