The first written recipe of the ZUPPA INGLESE (lit. English soup) appears in the most read cooking book of all times, "La scienza in cucina e l'arte di mangiar bene" (lit. Science in the kitchen and the art of eating well) by Pellegrino Artusi, published in 1891.
Here, it is also possible to read that at the end of the 19th century, zuppa inglese was popular in at least three Italian regions – Emilia-Romagna, Tuscany and Marche – and that in Emilia and Romagna it was already known in the 18th century.
But where does its name come from?
In England, during the 17th century, a popular dessert was trifle, a sort of ancestor of zuppa inglese. It is a dessert made of dough dipped in sweet wine, fruit and custard.
This dessert may have come to Italy at the end of the 17th century, thanks to the marriage of James II of England, the last king of the Stuart dinasty, to Mary of Modena.
In Romagna, it became common as zuppa inglese (lit. English soup) to recall its origins.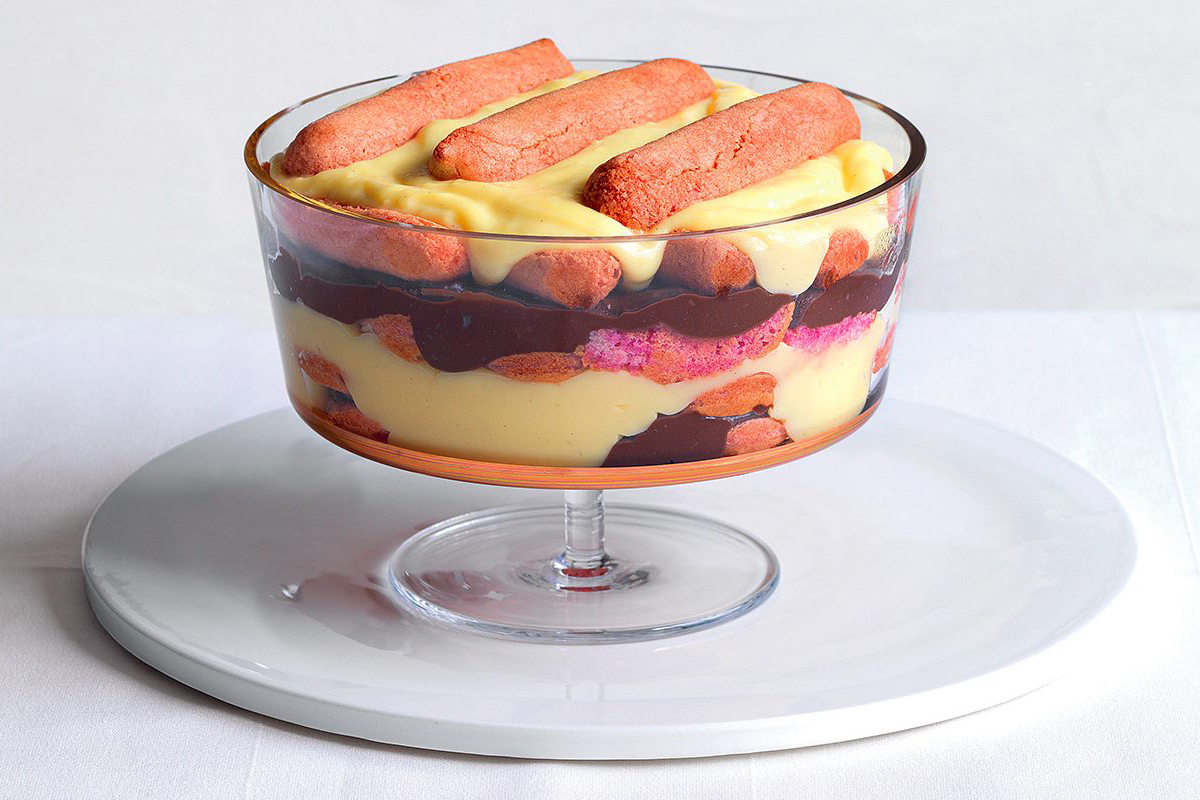 ZUPPA INGLESE RECIPE
Recipe by chef Massimiliano Gentile 
Ingredients for 6 people
4 tablespoons of flour;
10 tablespoons of sugar;
4 whole eggs + 4 egg yolks;
150 grams of dark chocolate;
20/30 ladyfingers biscuits;
1 litre of milk;
Alchermes to taste;
1 vanilla bean.
Directions
Put vanilla in a bowl, break the eggs, add flour and lukewarm milk and stir with a whisk.
Once you get a smooth mixture, put it in a pot on the stove at a medium-low temperature and keep stirring with the whisk to let it thicken.
In the meantime, prepare various single cups or a large baking dish. Dip the ladyfingers biscuits into Alchermes so that they become red and put them on the bottom of the cups or the baking dish. Pour the warm custard over the biscuits.
Put the dark chocolate in the pot with the remaining custard and continue stirring, so that the chocolate melts completely.
And there you have also a chocolate custard. Pour it over the layer of custard that you already poured in the cup or in the baking dish and keep pouring one kind of custard after the other.
Put a final piece of ladyfingers biscuit dipped into Alchermes on top of the dessert as a decoration.
You can eat zuppa inglese cold or warm – delicious!