Since the last few years, art in Ravenna hasn't only meant monuments and mosaics. There is also a map depicting more than eighty different works of art – modern and always visible.
Buildings are coloured by street art, murals more precisely, bringing creativity beyond its usual places.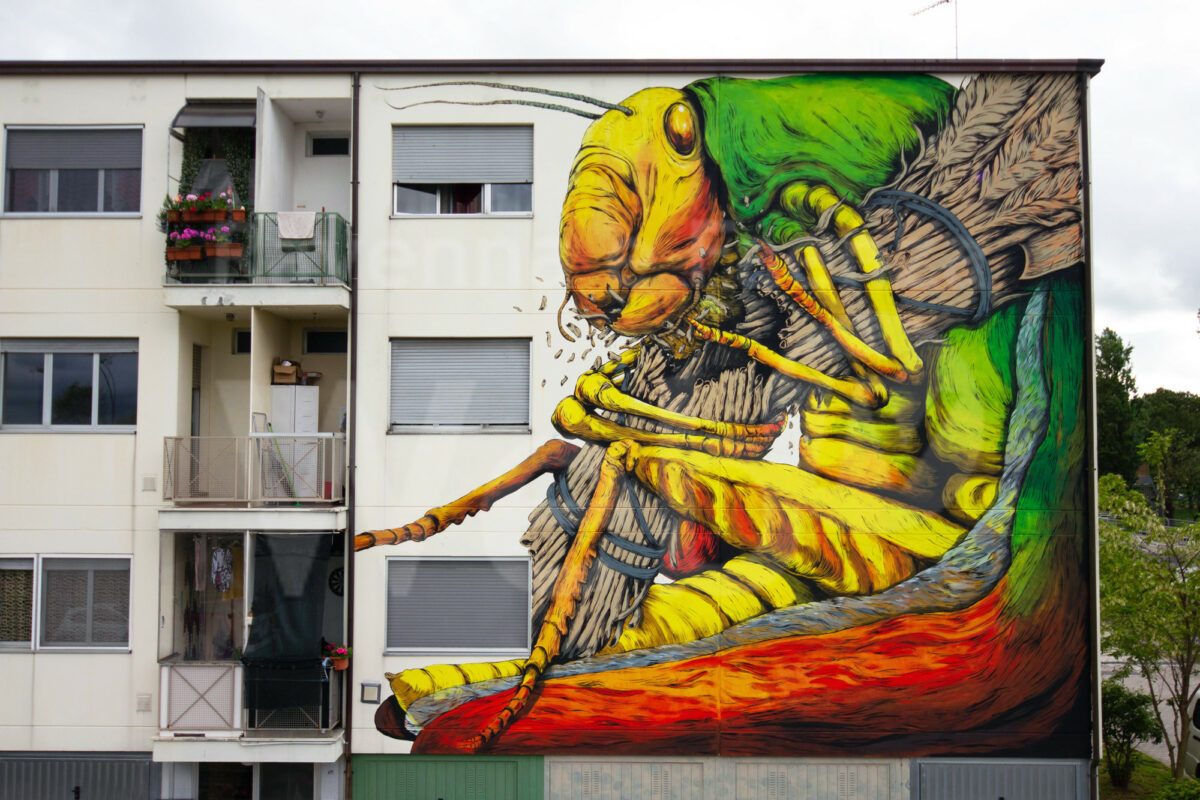 Thanks to the cultural association Indastria, which in recent years has collaborated with the Youth Policy Department of the Municipality of Ravenna, the city has become a small capital of street art and a point of reference at national level.
From the Darsena to Porta Adriana, and from the Stadium area to Rocca Brancaleone, Ravenna has transformed into an open-air museum that houses works by international artists, generally large works carrying a cultural message.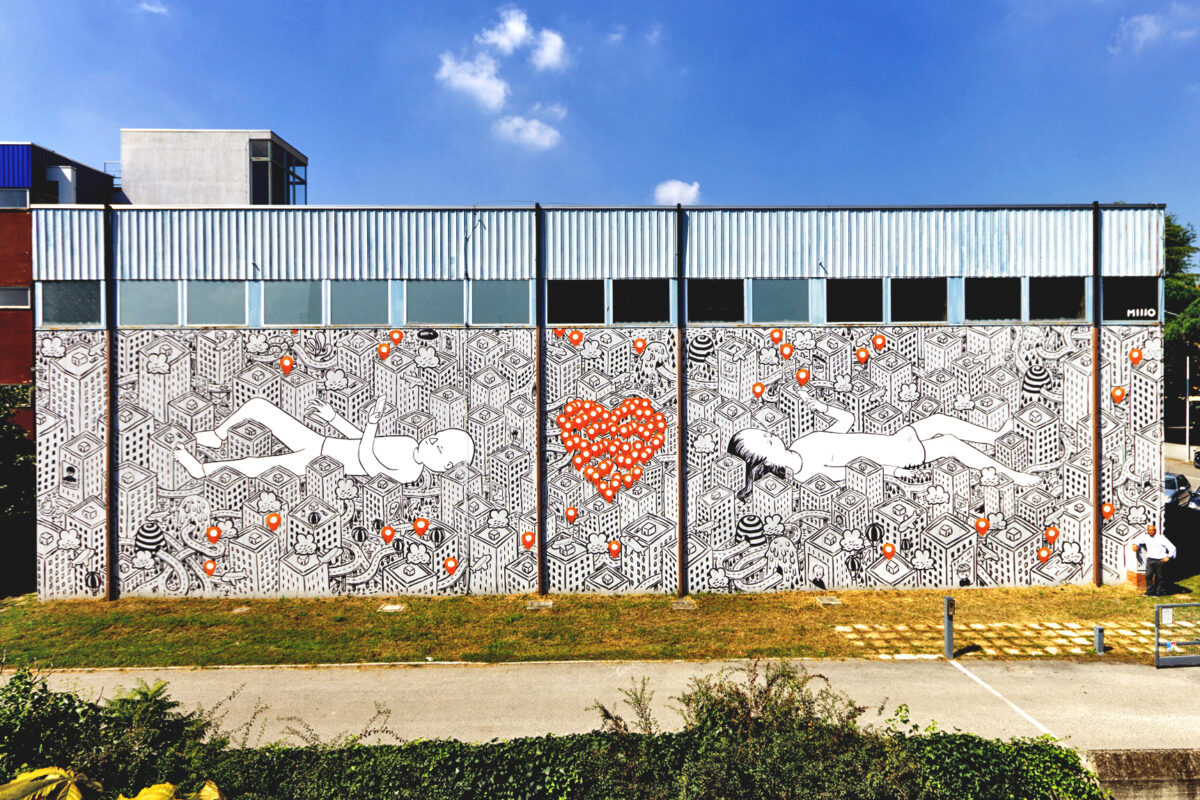 The gym of the Technical Institute in via Sighinolfi is a grey building, looking almost like a factory. MILLO, an artist from Brindisi, has completely redecorated it with a giant work.
Two young people in love rise above the city, with their gaze fixed on their cellphones. Only the places indicated by the heart can reveal their feelings. They are connected by they don't meet each other.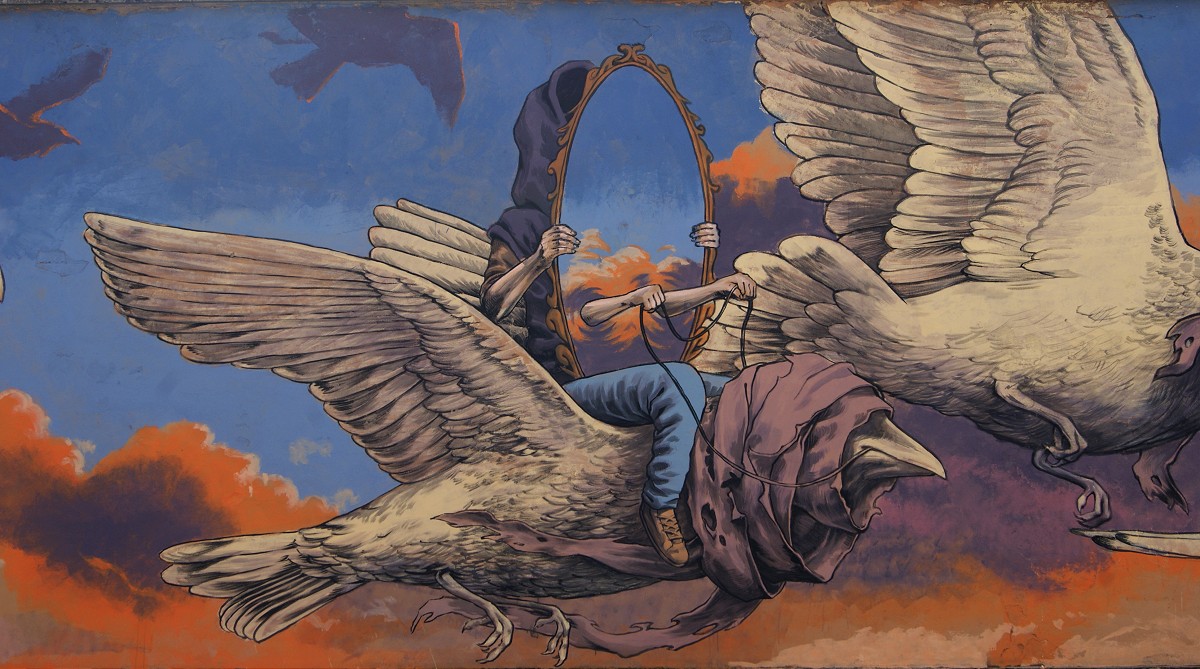 QBIC on the other hand is an artist illustrator and designer from Kazakhstan, who created a dreamlike, surreal image, with large blindfolded birds flying towards the sunset, led by hooded characters. The work is located in via Fiume. Perhaps it is a tribute to those who leave without a particular destination, in search of a more dignified life.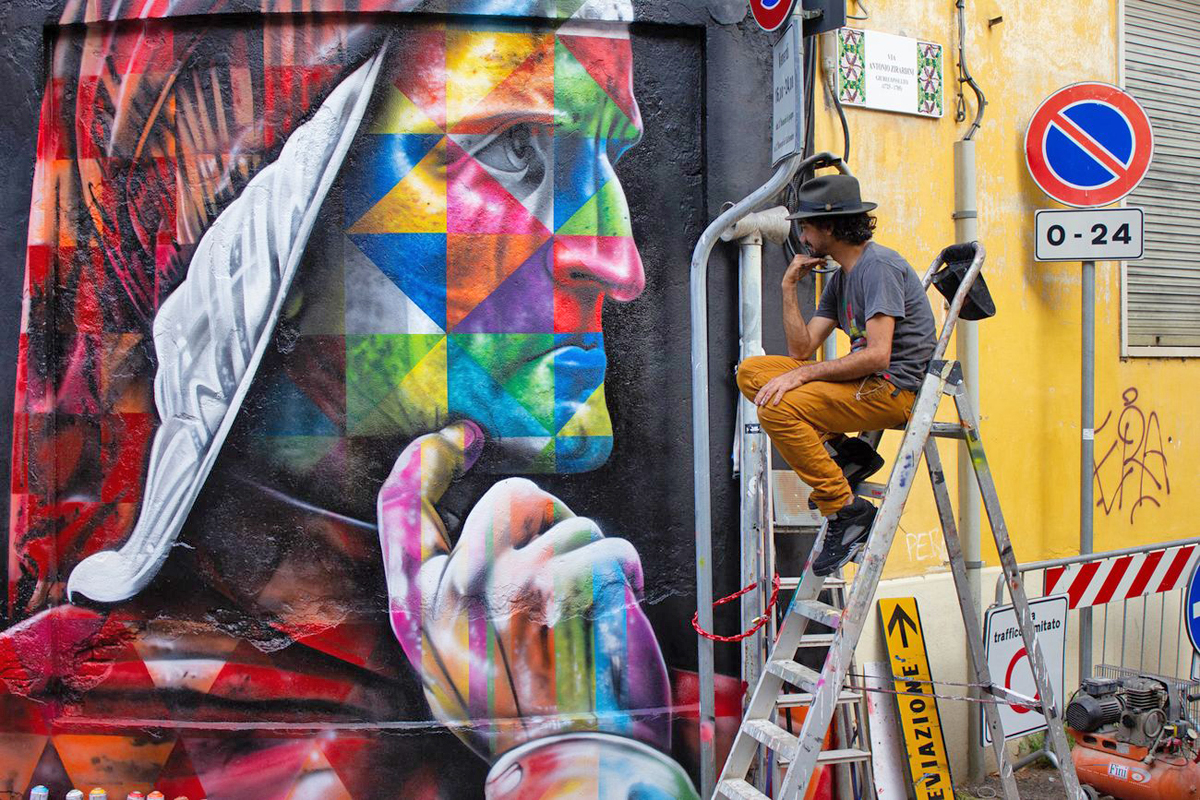 In the historic center, in via Pasolini, there is a portrait of Dante who, judging by his profile, seems solemn, but has a colorful face, as if it were a geometric palette. KOBRA, a Brazilian street artist, has created his own tribute to the Supreme Poet, traditional and vivacious at the same time.
Two lovers kissing before being swallowed by the vegetation is a conceptual, robotic, decomposed work that the Italian artist PIXEL PANCHO created in via Trieste.
The skin color of the protagonists is the same as that of the building which provides a sweet shelter for them.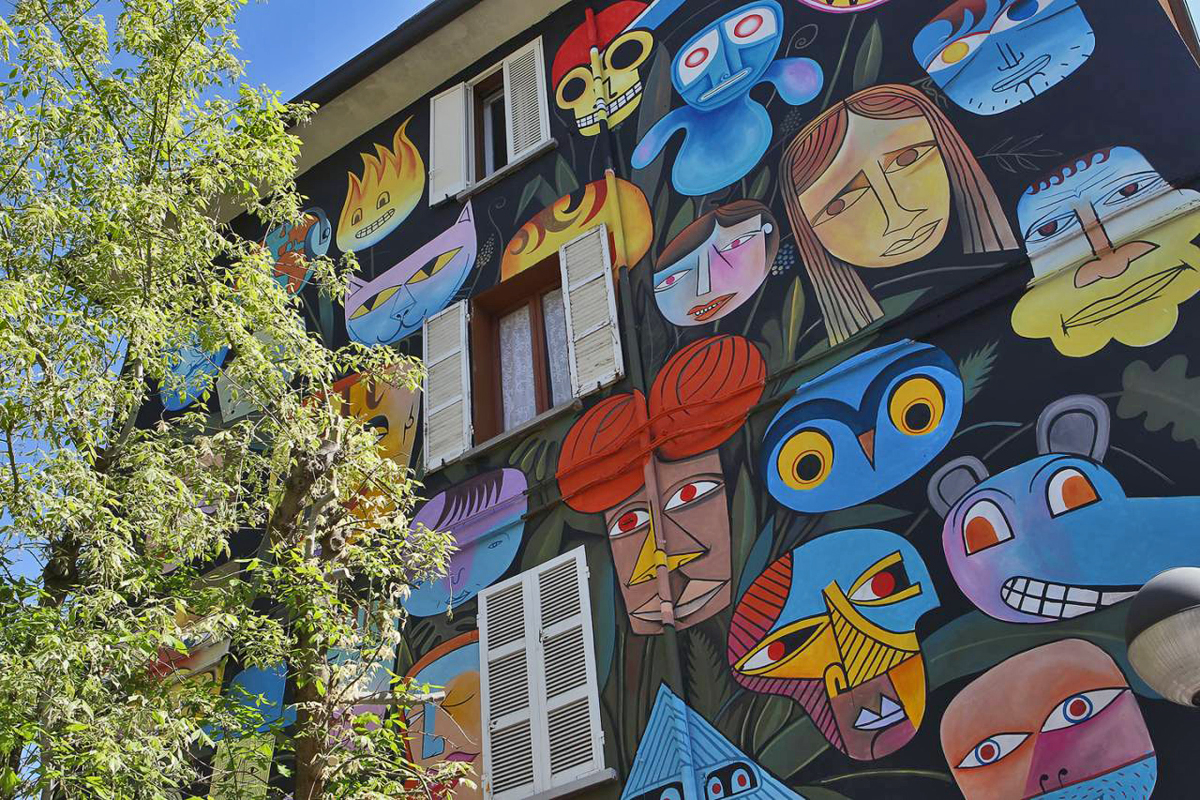 Not far away, in via Tommaso Gulli, JIM AVIGNON, an artist from Munich and one of the artists who created a work on the Berlin Wall after its fall, has created a work of art that speaks to the concept of integration, created in one of the the most multi-ethnic neighbourhoods of the city.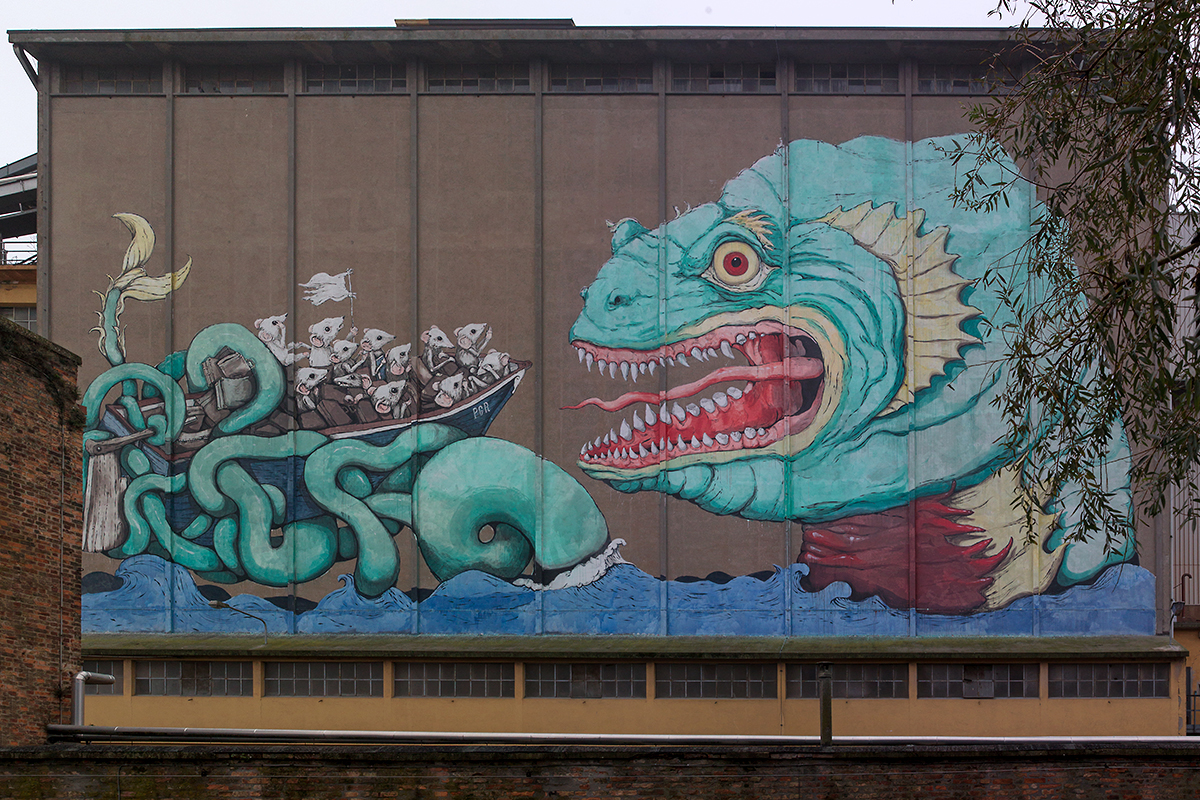 In the Darsena area stands the "monstrous" mural by ERICAILCANE, a world-famous artist, located on the walls of the former Marini feed mill. A great sea snake scares the poor mice aboard a crammed boat. They ask for surrender, waving a white flag to be able to go on and perhaps reach a safe place, sheltered from the threats of modernity.
A little further, in the area of the Pala de Andrè, two works by Ericailcane and her partner BASTARDILLA have us reflect on the arduous struggle to fight against fascism.
More or less hidden in the streets of the center (and the beaches), there are also much smaller works. They are inset jewels to be found over time, perhaps an "excuse" to wander around parts of the city outside the usual touristic routes. We have already talked about the French artist Invader and his works here.
Our suggestion for small artworks this time is BLUB, a Florentine artist famous internationally for his works from the series "L'arte sa nuotare" (lit. art can swim), for which he has created portraits of famous people (singers, stylists, actors, composers, historical characters and many others) all underwater and with a diving mask.
His works, some of which have been stolen – at the very least a sign of appreciation – are usually made on the counters that enclose the urban electrical boxes. In Ravenna there are by now about thirty, and they form a new map within the map.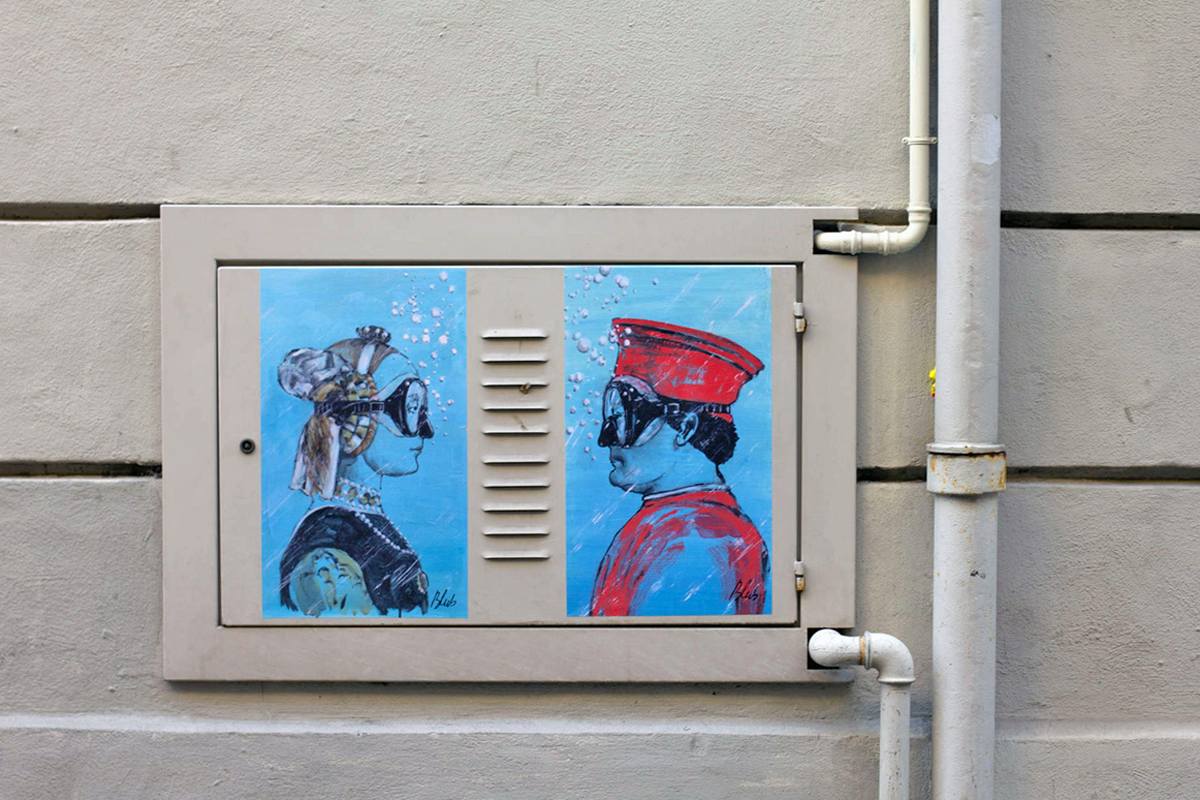 These works, and many others, are always at hand. They can be visited freely, creating one's own itinerary according to taste and inspiration, or by taking part in one of the bike rides led by experts that take the curious for a tour around the city, to look at it with new eyes and from different angles.
In Ravenna there is a new artistic layer, a new dimension of art. A mosaic of artwork that never ends, which has continuously renewed itself for centuries.