The Classense Library, the most important cultural institution in the city, allows you to learn first hand about Ravenna's ties with its Medieval history, particularly with regard to the phenomenon of monasticism that progressively spread throughout Western Europe.
In the complex that today houses the Library there was originally the library of the Camaldolese Order, the monastic congregation founded at the beginning of the first millennium by Saint Romuald of Ravenna.
St. Romuald is described to us as the one who brought the ideals of monastic life to Ravenna according to the code of the Precept of St. Benedict, patron saint of the Old Continent. His spiritual enterprises began around 980 in the coenobium of Sant'Apollinare in Classe, one of the monasteries built around the great basilica a few years after its construction.
In 1512 the monastery was partially destroyed during the fighting in the battle of Ravenna between the armies of the Holy League and the French under the orders of King Louis XII.
The monks had to abandon Classe to move inside the city walls, within the then hospital of Santa Maria della Misericordia which had been donated by the Da Polenta family to Ambrogio Traversari, the prior of the Camaldolese Order.
The Traversari priory coincided with a rediscovery of the figure of the founder of the Order, reinvigorating the abbey after a period of decline. Not only was St. Romuald rediscovered, but so too were central figures of ancient monasticism, such as Basil the Great, Gregory of Nazianus, and John Chrysostom, thus restoring the centrality of the ideal of ascetic life that had inspired the founder.
The re-proposal of the figure of Romualdo was boosted by the discovery of his relics in Val di Castro and by the work of Venetian Pietro Dolfin, who was elected Prior General in 1480.
Thanks to this, the Camaldolese settlement made Ravenna one of the most involved cities in the process of spreading the culture of Humanism that had already begun by the end of the 14th century.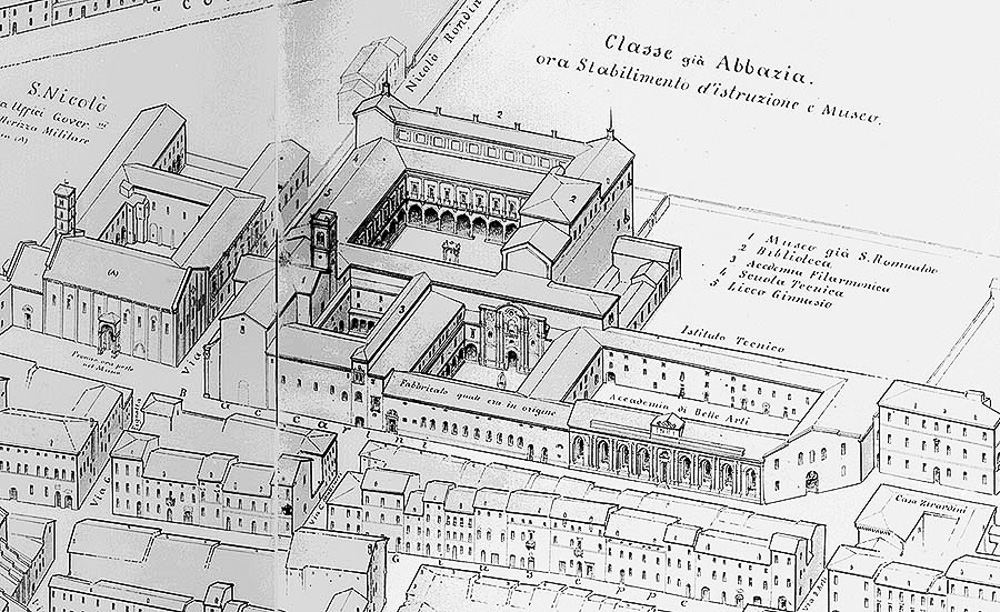 "Devout humanism" was taken to heart by the abbot Pietro Canneti who, during his ten-year stay in the Classense monastery, dedicated himself to enriching the library to the point of endowing it with over nine thousand volumes including manuscripts, incunabula, and historical/philological works.
One could say that the Biblioteca Civica (lit. Civic Library), which became such in 1803 after the Napoleonic suppression of monastic assets, has assumed the challenge of continuing to convey that synthesis between spirituality and knowledge first expressed by the Camaldolese model.
Its link with the Supreme Poet (Dante Alighieri) was reaffirmed in 1908 with the acquisition of the Dante Collection by the publisher Leo S.Olschki, the most important Dante-themed book collection, full of rare editions.
Meanwhile the memory of Saint Romuald has remained alive through the 17th-century church dedicated to him and attached to the library.