Famous all over the world for its stunning early-Christian and Byzantine mosaics preserved inside the Unesco World Heritage monuments, Ravenna proudly and bravely fosters the tradition of mosaic art thanks to the many local schools and mosaic artists.
The city jealously guards the techniques, skills and methods for the production of mosaic.
This ancient art, for which the city has showed a new interest since the first restoration campaigns in the 19th century, flourished in the last century thanks to the genius and creativity of various architects and artists, thus strengthening an incomparable excellence.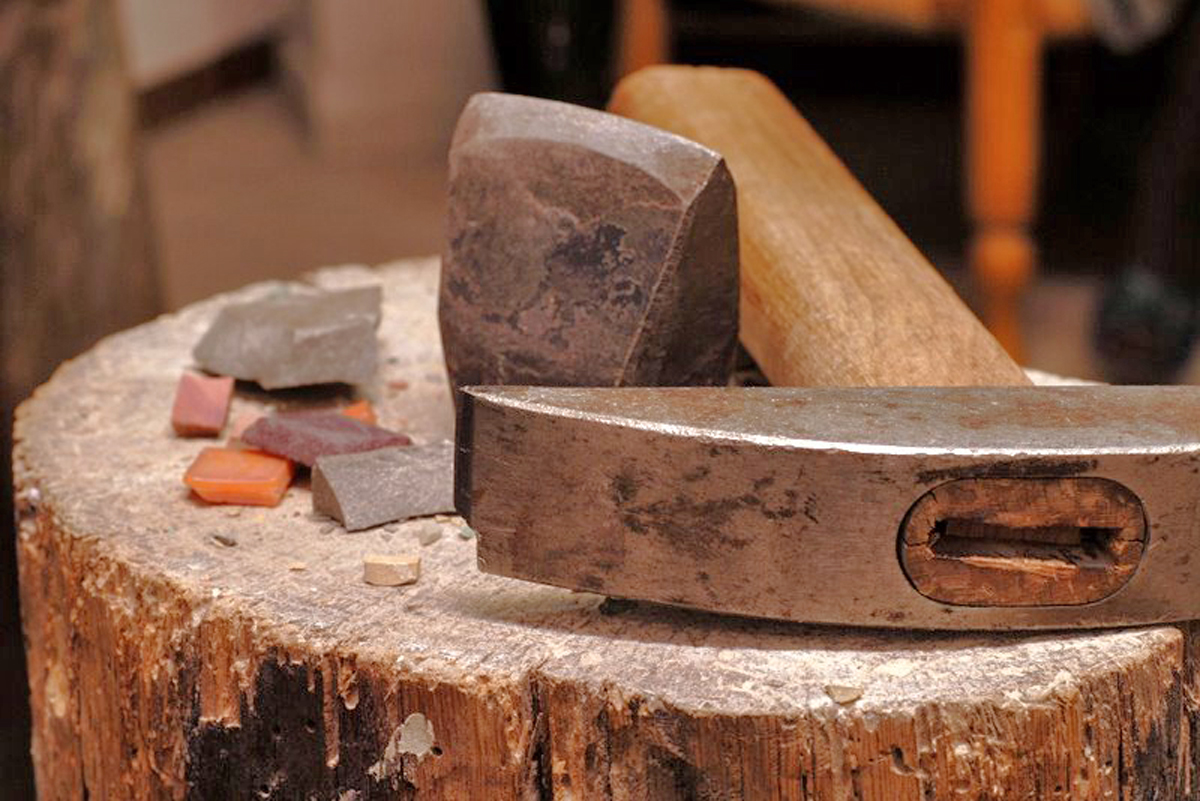 In their studios scattered around the historical centre and in close proximity to it, artists use and elaborate the so-called "Ravennese" traditional technique of mosaic – developed in the times of the Romans and of Galla Placidia, Theodoric and Justinian – in new ways and forms.
Furnishings, frames, mirrors, jewellery, copies of ancient masterpieces, ornaments, portraits and custom elements are just some of the works that you can find in the mosaic shops in Ravenna.
A special itinerary in the streets of the city that will allow you to learn more about the history and development of this art and discover the techniques and beauty of it.
Most of the workshops offer you the opportunity to challenge yourself and take part in a course, thanks to which you will learn the techniques and create your personal work to bring back home – an indelible memory of your trip to Ravenna.
Would you like to visit a mosaic workshop? 
Akomena Spazio Mosaico
Via Francesco Baracca, 56 – Ravenna
Via Giuliano Argentario, 3
Tel. +39 333 3397389
Email: akomena@akomena.com
Website: www.akomena.com
Annafietta.it
Via Argentario, 21 – Ravenna
Tel. +39 348 9375250
Email: anna@annafietta.it
Website: www.annafietta.it
Giuliano Babini
Via Vallona, 4 – Ravenna
Cell. +39 333 9892920
Email: info@giulianobabini.it
Website: www.giulianobabini.it
Laboratorio Mosaico Dusciana Bravura
Via Cerchio, 4/a – Ravenna
Tel. +39 333 2655422
Email: info@duscianabravura.com
Marco Bravura
Via Faentina, 402 – Ravenna
Tel. +39 0544 418796
Email: info@marcobravura.com
Website: www.marcobravura.com
CaCO3
Via Rovigno, 5 – Ravenna
Tel. +39 340 784 49 29 (Âniko)
Tel.+39 306 345 17 83 (Giuseppe)
Tel.+39 339 562 96 43 (Pavlos)
Email: info@caco3studio.com
Website: www.caco3studio.com
Silvana Costa – Associazione Il Cerbero
Via Faentina Sud, 2 – Ravenna
Tel. +39 0544 583256
Cell. +39 335 8151821
Email: info@ilcerbero.it
Domus Aurea di Salvatore Palazzolo
Via Romagnoli, 1 – Russi (RA)
Tel. +39 0544 581661
Email: info@domusaureamosaici.com
Website: www.domusaureamosaici.com
Emme-Di Mosaici (Marco de Luca)
Via Salara, 33 – Ravenna
Cell.+39 338 2528672
Website: www.marcodeluca-mosaici.com
Gruppo Mosaicisti di Ravenna
Via Benedetto Fiandrini, 8 – Ravenna
Tel. +39 0544 34799
Email: info@gruppomosaicisti.it
Website: www.gruppomosaicisti.it
Imad Punto Mosaico (Ivana Ciuti Roberta)
Via Francesco Negri, 4/A – Ravenna
Tel. +39  0544 200041
Email: puntomosaico@yahoo.it
Website: www.imadpuntomosaico.it
Koko Mosaico
Via di Roma, 136 – Ravenna
Tel. +39 0544 465190
Email: info@kokomosaico.com
Website: www.kokomosaico.com
Barbara Liverani Studio
Via Girolamo Rossi, 21 /a – Ravenna
Tel. +39 0544 215162
Email: info@barbaraliveranistudio.com
Website: www.barbaraliveranistudio.com
Mosaic Art School
Via Negri, 14 – Ravenna
Tel. +39 0544 67061
Email: info@mosaicschool.com
Website: www.mosaicschool.com
Luciana Notturni
Via Arno, 11 – Ravenna
Cell. +39 335 5618485
Email: luciananotturni@yahoo.it
Il mosaico di Maddy
Circonvallazione San Gaetanino, 141 – Ravenna
Email: info@ilmosaicodimaddy.it
Website: www.ilmosaicodimaddy.it
Felice Nittolo – niArt
Via Anastagi, 4/A – Ravenna
Tel. +39 0544.463228 | Cell.+39 338 2791174
Email: artgallery@aliceposta.it
Website: www.felicenittolo.it
Paolo Racagni
Via Don Giovanni Minzoni, 65 – Ravenna
Email: info@racagnimosaico.com
Website: www.racagnimosaico.com
Pixel Mosaici
Via Sinistra Canale Molinetto, 181 – Ravenna
Tel. +39 320 1162125
Email: info@pixelmosaici.com
Website: www.pixelmosaici.com
Elisa Simoni
Via Aniene, 33 – Ravenna
Tel. +39 347 9265023
Email: elisasimoni@libero.it
Website: www.simonimosaici.it
Valeria Ercolani
Viale Leon Battista Alberti, 51 – Ravenna
Tel. +39 0544 407897
Email: valeriamosaico@libero.it
Silvia Danelutti
Via Simmaco, 59 – Ravenna
Tel. +39 380 7333227
Email: info@arte-mosaico.it
Website: www.arte-mosaico.it
Dimensione Mosaico
Via Centofanti, 53 – Ravenna
Tel. +39 0544 200101
Email: dimensione-mosaico@libero.it