As per tradition, during the holiday season there are many CHRISTMAS MARKETS in the streets and piazzas of the historical centre.
Another good occasion to visit Ravenna and its Unesco World Heritage Monuments while buying something under the twinkling Christmas lights.
From hand-made products to food and wine, from the ever-present candies to gift items – the various exhibitors are ready to offer you many ideas for your Christmas presents.
Warm-heartedness, festive atmosphere, colours, lights, sounds and smells – all the ingredients for Christmas in Ravenna.
From Friday 9th to Saturday 24th December, all parking areas are free of charge from 4.30 pm, with exception of the one in Piazza Baracca (free from 6.30 pm). Local public transport free on Friday 23rd and Saturday 24th December.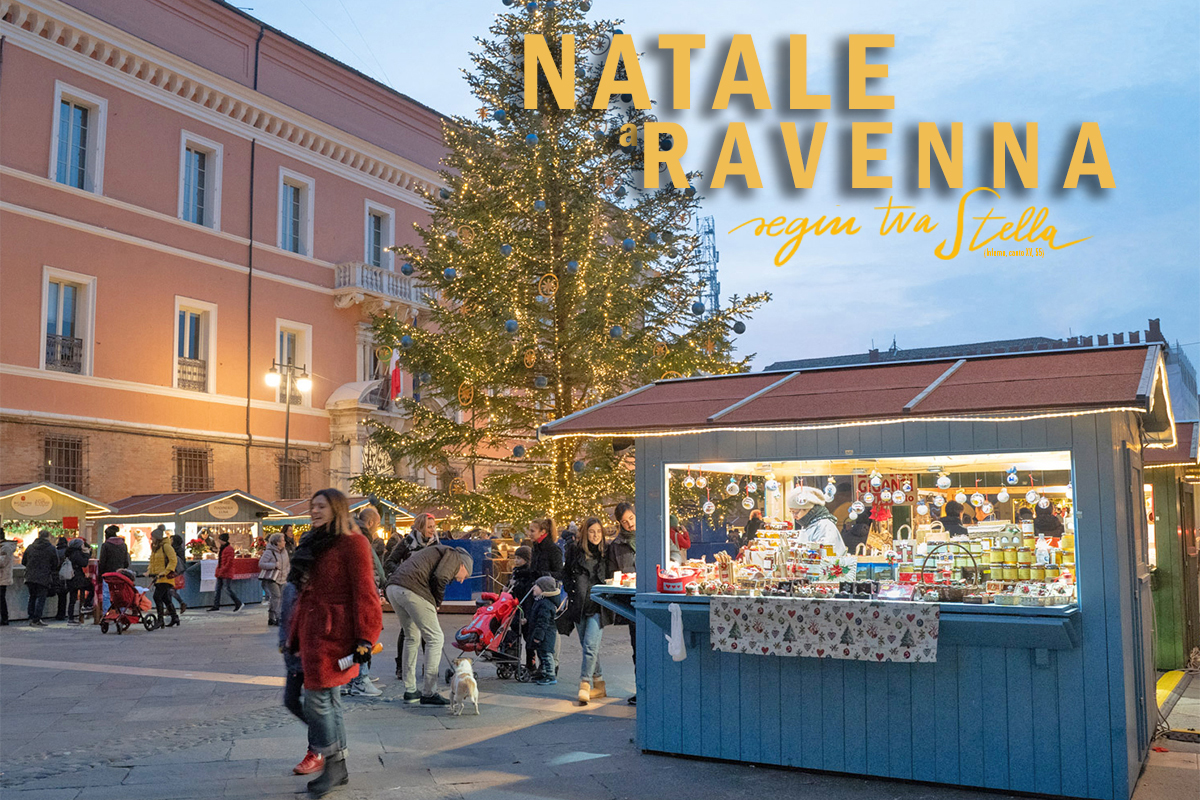 MERCATINO FATTO AD ARTE
Porticoes of Via Gordini and Via Corrado Ricci
Dates: Saturday 3rd and Sunday 4th December, Saturday 10th and Sunday 11th December
Time: 9 am – 7 pm
Since 1996, the creative art market in Ravenna captures a new dimension of the ideas and the artistic sense of the city. You will be able to admire and buy works and products that you cannot find in art galleries or shops, but only in this large open-air market.
I CAPANNI DEL NATALE
Piazza del Popolo
Dates: from Saturday 3rd December to Sunday 8th January 2023
Time: 10.30 am – 2.30 pm and 4 pm- 8 pm (every day)
An original Romagna-style Christmas village in the heart of Piazza del Popolo, around the big Christmas tree gifted by the town of Andalo. The huts remind of the seaside tradition in Romagna during the 50s and 60s and will be dressed up with high-quality Christmas products and delicacies.
WINTER HANDMADE MARKET – NATALE "PASSIONE CREATIVA"
Piazza S. Francesco
Date: Thursday 8th December
Time: 10 am – 7.30 pm
Gifts, clothes, jewelry for a creative Christmas.
Event curated by the "Ravenna Centro Storico" association on the occasion of the opening of "Villaggio del Natale 2022" by ADVS Fidas Ravenna.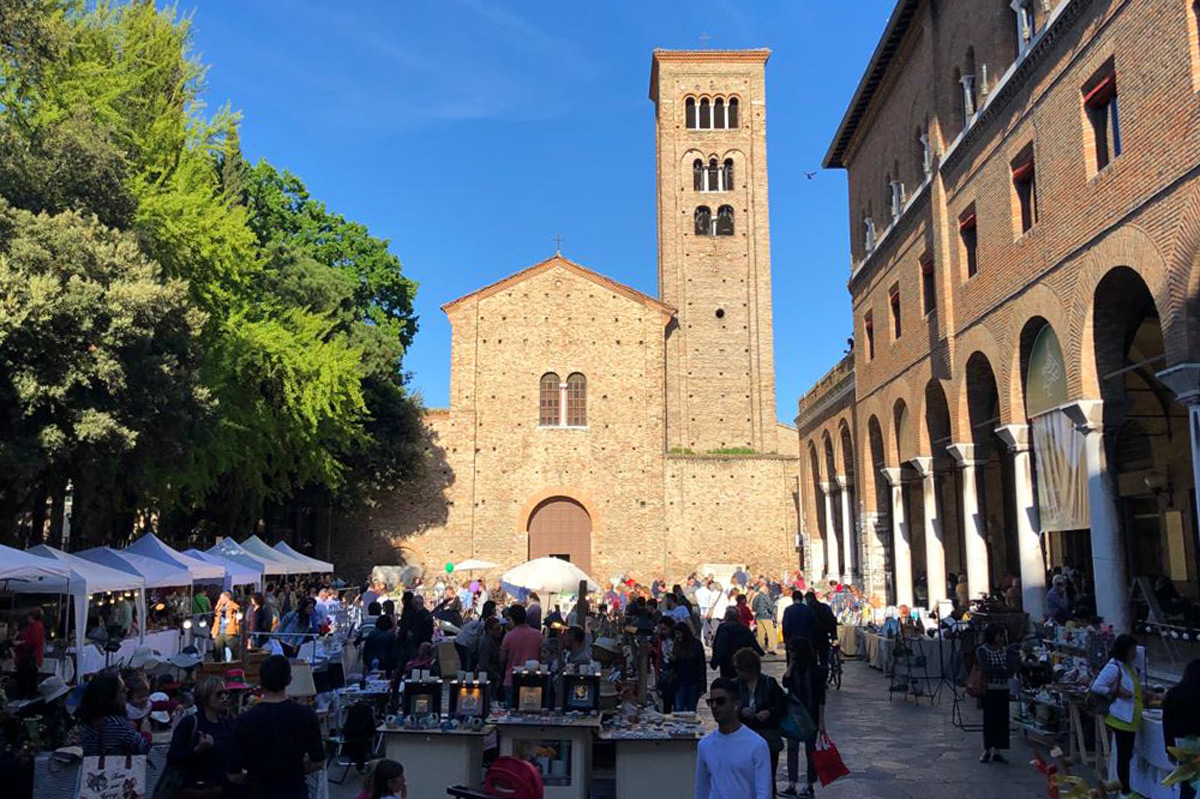 LA PULCE D'ACQUA
Darsena area
Date: Thursday 8th December
Time: 8.30 am – 6.30 pm
Books, jewelry, accessories, clothes, toys, traditional tools and much more. Unique pieces not to be found somewhere else are waiting for you along the city dock in an unusual and suggestive second-hand market. For more information click HERE.
EXCELLENCES OF ROMAGNA – EXTRAORDINARY CHRISTMAS MARKETS
Darsena area
Dates: Sunday 11th and 18th December
Time: 9 am – 7 pm
The merchants of Mercato di Ravenna await you for your Christmas shopping.
SUNDAY MARKET
Piazza Sighinolfi
Date: Sunday 11th December
Time: 8 am – 7 pm
Before Christmas, the traditional city market usually taking place on Wednesdays and Saturdays also takes place on Sundays.
GARAGE SALE – CHRISTMAS SHOPPING
Artificerie Almagià – Via dell'Almagià, 2
Dates: Saturday 10th and Sunday 11th December
Times: 10 am – 7 pm
Garage Sale is a moment of encounter and exchange fostering the philosophy of critical consume and conscious fashion. A sustainable market where you will find second-hand clothes and handmade objects produced by young designers, who choose this place to get to a sensitive and attentive public.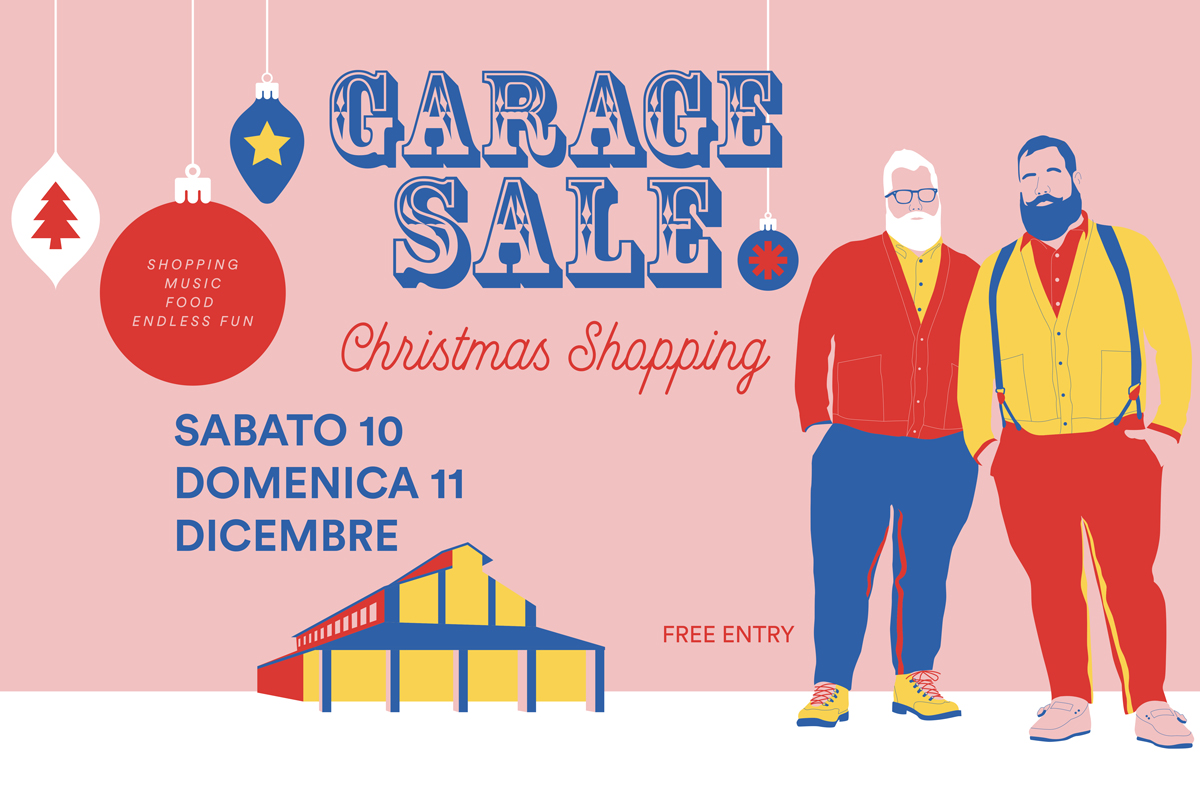 ANTIQUE AND HAND-MADE MARKET OF RAVENNA
Historical centre (Via Diaz, Piazza Einaudi, Piazza Garibaldi, porticoes of via Gordini and via Ricci)
Dates: Saturday 17th and Sunday 18th December
Time: 9 am – 8 pm
This fair has been taking place in Ravenna every third Saturday and Sunday for more than 35 years. You can find antique objects, stamps, coins and medals, collector's items, minerals and fossils, replacement parts for old vehicles and machines, restoration parts, hand-made objects, laces, silver objects, furniture, paintings, artistic ceramics, jewelry and much more…